Live Long and Proper - The Star Trek Auction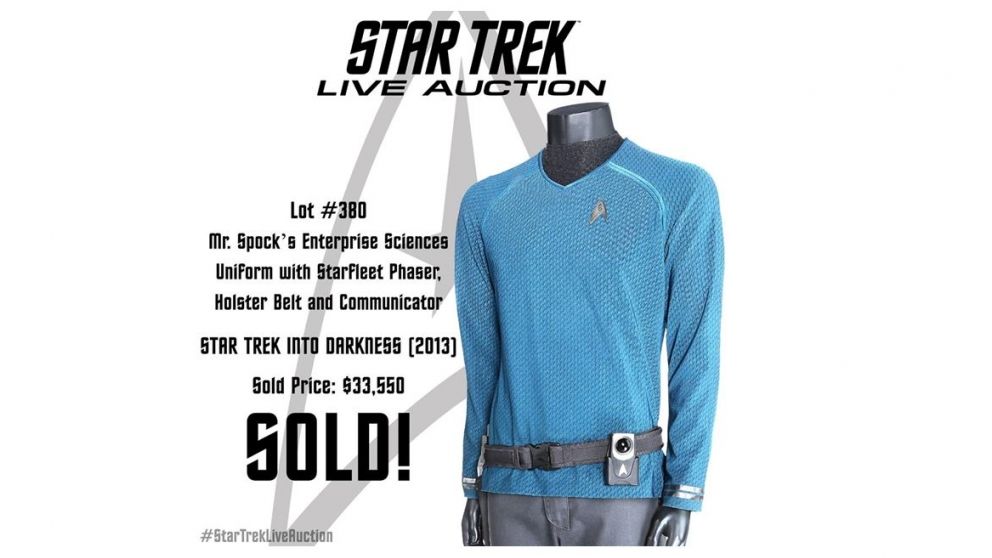 Live Long and Proper - The Star Trek Auction
As an auctioneer, I've sold everything from antlers to Zamboni's and a million things in between. The variety of the assets I sell is one of the things I love about this career.
​Saturday, I had the honor of being the auctioneer for the sale of the movie props and costumes from the JJ Abrams Star Trek movies.
Last year, I had the opportunity to work for the Prop Store of London​in Hollywood selling the​props and costumes from the​Twilight Saga movies in the historic Grumman's Chinese Theater. They must have been happy with the results since they brought me back again this year.
Before taking the podium, I did my homework and watched both Star Trek and Into Darkness - it's critical to understand the assets I'm selling. Truth be told, I enjoyed the Star Trek movies much more than the Twilight movies. Action flicks are much more my style.
Next, I flew out early to Los Angeles to meet with the team from the Prop Store in their new, 180,000 square foot Valencia facility. The auction was a major production, and a rehearsal was necessary to make sure everything was ready to go. There would be telephone bidders, on-line bidders, and live bidders in the audience. We even had absentee bids to consider. As the auction was being broadcast worldwide over the internet, we needed to make sure the technology was ready to go.
We also had to rehearse the timing. Selling cars or assets at an industrial auction is all about speed - hitting 80+ lots an hour is ideal to keep things moving. At a benefit auction, we tend to take two or three minutes on average per item. Fundraising auctions are as much about entertainment as they are about selling.
In this case though, we needed to strike a balance with keeping the auction moving, and making sure bidders had some time to react to each lot, especially considering the slight delays caused by internet simulcast. With nearly 400 lots to sell, the timing was a big deal. The goal was 50-60 lots an hour. ​
I also had to acclimate to the "gallery" style of bid-calling. Less filler words in the chant - more speaking.
​"Going once.... Going twice... fair warning'...Last Call". ​Auctioneers tend to settle into a style - their comfort zone. We're good at adjusting speed, but it takes a little more to run with a completely different style. I was up to the challenge.
Rehearsal was over, and a good night's sleep was crucial.
Auction day... I arrived early, and the team was already hard at work, and it was a big team! I had three clerks on my left managing the incoming internet bids and absentee bids. I had two clerks on my right handling phone bidders. There were two team members in the audience acting as proxy bidders. There were three more techs on my right managing the live feed and internet connections. There were more folks handling check-in and customer relations. There were even floaters to make sure everyone got regular breaks.
I have to admit, I was a little nervous. Hundreds of thousands of dollars' worth of Hollywood memorabilia was on the line. My reputation as a champion auctioneer was also on the line. And, the Prop Store CEO from London was sitting to my right, watching everything. ​But the butterflies went away after just a lot or two, and the auction was rocking and rolling.
There were hundreds of bidders on-line from dozens of countries, and another 20 sitting in front of me in the audience. It was pretty fun watching the live audience - ​all very well versed on the movies, and each knowing exactly what they wanted. There was an incredible energy in the room, especially when someone in our audience was bidding against someone on the internet. It was a competition, and the folks here were cheering on their in-person friends to victory. Auctioneers feed on this energy, and I took it all in.
I needed to take in all this energy, because to maintain the pace, on my feet, at my best for that many hours, took all of the energy I had.
Phasers, weapons, uniforms, Tri-Corders...if it was used in the movies, I sold it. The Iowa State Patrol uniform from the chase scene at the beginning of the Star Trek movie, when a young Kirk took a Corvette for a joy ride. ​The handcuffs that were used on Kahn on the Enterprise. ​ There were lots of cool things to sell, but the highlight was a Spock uniform with a utility belt that I sold for $27,500.
And before you knew it, I was done. ​392 ​lots sold... hundreds of thousands of dollars bid. Happy buyers. Happy sellers. Another one in the books.
A celebratory dinner, then a flight back home to Colorado. I have my auction catalog, a few pics and video clips, and I have the memory of this amazing event to keep forever. ​I also had the congratulations from the client for a job well done, and some talk of the auctions being planned for next year​
I hope you had a chance to watch or even bid. I can't wait to see what comes next. Stay tuned - I'll take you with me.
Photos courtesy of The Prop Store
---